Department of Economics
Economics analyzes the ways in which societies decide what to produce, how to produce it, and who gets it. Because it deals with these fundamental issues of our material well-being, it sheds light on the reasons why some societies are rich and others are poor. This also makes it a powerful tool for analyzing the costs and benefits of decisions, whether they are made by governments, business, or individuals. The Department of Economics at San Diego State University offers a Master of Arts degree in liberal arts and sciences, a Bachelor of Arts degree in liberal arts and sciences, and a minor.
Upcoming Event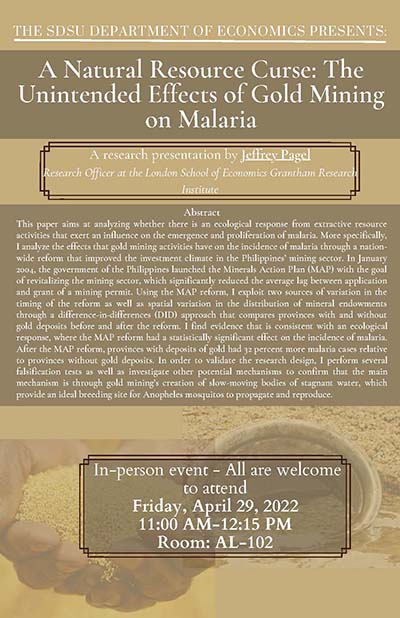 A Natural Resource Curse: The Unintended Effects of Gold Mining on Malaria
April 29, 2022 | 11:00 AM-12:15 PM | in AL-102
Join us for this in-person research presentation with Jeffrey Page from the London School of Economics Grantham Research Institute.
In January 2004, the government of the Philippines launched the Minerals Action Plan (MAP) with the goal of revitalizing the mining sector, which significantly reduced the average lag between application and grant of a mining permit. Jeffrey's research aims at analyzing whether there is an ecological response from extractive resource activities that exert an influence on the emergence and proliferation of malaria. More specifically, he examines the effects that gold mining activities have on the incidence of malaria through a nationwide reform that improved the investment climate in the Philippines' mining sector.
Need Help?
For general questions
Email: [email protected]


For undergraduate academic advising
Please see the advising page for more information.


For tutoring
Free tutoring is provided for undergraduate economic courses.
Please see the advising page for more information.